Mes rendez-vous avec Leo (Good luck To You, Leo Grande) L'histoire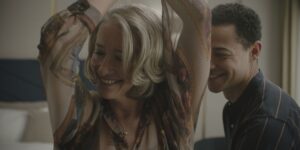 Nancy Stokes n'a jamais été pleinement satisfaite sexuellement. Enseignante à la retraite de 55 ans en mal d'aventure, Nancy est déterminée à faire quelque chose pour remédier à cette situation. Son plan : engager Leo Grande, un jeune travailleur du sexe. Au fil de leurs rendez-vous, la dynamique change et leurs masques, pourtant bien ancrés, commencent à tomber. Leo Grande amène une réflexion humoristique et tendre sur les relations humaines.
Nancy Stokes doesn't know good sex. A 55-year-old retired schoolteacher yearning for some adventure, Nancy is determined to finally do something about that. And she has a plan: she hires a young sex worker named Leo Grande. Over the course of their rendezvous, the power dynamics shift and their well-worn masks begin to slip in this humorous and tender exploration of human connection.
United Kingdom
2021
Couleur
97'
Scénario Katy Brand Photographie Bryan Mason Montage Bryan Mason · Musique Stephen Rennicks · Production Debbie Gray · Avec Emma Thompson, Daryl McCormack
Les projections
#COVID-19 À la suite des décisions gouvernementales annoncées pour faire face à la crise sanitaire actuelle, les projections ne pourront pas se tenir du …
Les projections
(édition en cours)
1 October 2022

21:30

>

23:07

Buy
1 October 2022

21:30

>

23:07

Buy
<!- View not found ->