Les Banshees d'Inisherin L'histoire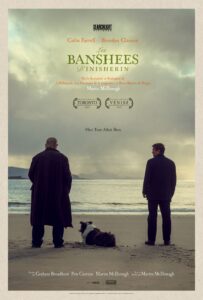 Sur une île isolée de la côte ouest de l'Irlande, Padraic et Colm, amis de toujours, se retrouvent dans une impasse. Colm met alors fin à leur amitié de manière inattendue. Padraic, stupéfait, aidé de sa sœur Siobhan et du jeune Dominic, s'efforce de rétablir la relation. Mais les efforts répétés de Padraic ne font que conforter la résolution de son ancien ami. Quand Colm lui lance un ultimatum désespéré, la situation s'envenime rapidement et a des conséquences dramatiques.
On a remote island off the west coast of Ireland, lifelong friends Padraic and Colm find themselves at an impasse when Colm unexpectedly puts an end to their friendship. A stunned Padraic, aided by his sister Siobhan and troubled young islander Dominic, endeavours to repair the relationship, refusing to take no for an answer. But Padraic's repeated efforts only strengthen his former friend's resolve and when Colm delivers a desperate ultimatum, events swiftly escalate, with shocking consequences.
United Kingdom, Ireland, United States
2022
Couleur
108'
Scénario Martin McDonagh Photographie Ben Davis BSC Montage Mikkel E.G. Nielsen · Musique Carter Burwell · Production Graham Broadbet, Pete Czernin, Martin McDonagh · Avec Colin Farrell, Brendan Gleeson, Kerry Condon, Barry Keoghan
Les projections
#COVID-19 À la suite des décisions gouvernementales annoncées pour faire face à la crise sanitaire actuelle, les projections ne pourront pas se tenir du …
Les projections
(édition en cours)
30 September 2022

21:00

>

23:03

Buy
<!- View not found ->