Quatre Enfants et Moi (Four Kids and It) L'histoire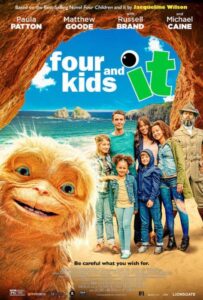 Quatre enfants découvrent une mystérieuse créature durant leurs vacances d'été. Cette dernière leur propose d'exaucer un vœu chaque jour, la magie prenant fin au coucher du soleil.
A group of kids on holiday in Cornwall meet a magical creature on the beach with the power to grant wishes.
United Kingdom
2019
Couleur
100'
Scénario Simon Lewis Photographie John Pardue Montage Alex Mackie · Musique Anne Nikitin · Production Julie Baines, Anne Brogan · Avec Russel Brand, Matthew Goode, Paula Patton
Les projections
#COVID-19 À la suite des décisions gouvernementales annoncées pour faire face à la crise sanitaire actuelle, les projections ne pourront pas se tenir du …

Regrettable, aucune projection de ce film n'est programmée...

Regrettable, aucune projection de ce film n'est programmée...

<!- View not found ->