Flux Gourmet L'histoire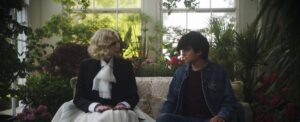 Un collectif de musiciens, qui n'arrive pas à choisir de nom, s'installe dans un centre consacré à la gastronomie et aux performances culinaires. La dynamique dysfonctionnelle du groupe, en proie à des rivalités internes, est encore amplifiée lorsqu'ils doivent rendre des comptes au directeur du centre. En plus de ces tensions, et tout en consignant les actions du collectif, le "dossierge" du centre connait des troubles gastriques de plus en plus conséquents. Les différences créatives mènent à la guerre.
A sonic collective who can't decide on a name takes up a residency at an institute devoted to culinary and alimentary performance. The members are caught up in their own power struggles, only their dysfunctional dynamic is furthermore exacerbated when they have to answer to the institute's head. With the various rivalries unfolding, the Institute's 'dossierge' has to privately endure increasingly fraught stomach problems whilst documenting the collective's activities. War breaks out over creative differences.
United Kingdom, United States, Hungary
2022
Couleur
111'
Scénario Strickland Peter Photographie Tim Sidell Montage Mátyás Fekete · Production Serena Armitage · Avec Ariane Labed, Asa Butterfield, Fatma Mohamed, Gwendoline Christie, Makis Papadimitriou
Les projections
#COVID-19 À la suite des décisions gouvernementales annoncées pour faire face à la crise sanitaire actuelle, les projections ne pourront pas se tenir du …
Les projections
(édition en cours)
30 September 2022

22:00

>

23:51

Buy
1 October 2022

21:00

>

23:06

Buy
<!- View not found ->