Nothing Compares L'histoire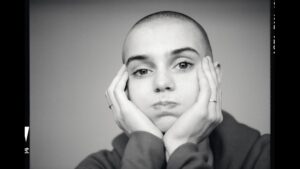 L'histoire de l'ascension phénoménale de Sinéad O'Connor vers la célébrité mondiale et la façon dont sa personnalité emblématique a entraîné son exclusion du courant pop. En se focalisant sur ses paroles et ses actions prophétiques de 1987 à 1993, et à travers un regard féministe contemporain, « Nothing Compares » se penche sur l'héritage de cette pionnière intrépide.
The story of Sinéad O'Connor's phenomenal rise to worldwide fame and how her iconoclastic personality resulted in her exile from the pop mainstream. Focusing on her prophetic words and deeds from 1987-1993, the film reflects on the legacy of this fearless trailblazer through a contemporary feminist lens.
Ireland
2022
97'
Photographie Luke Jacobs Montage Mick Mahon · Musique Irene Buckley, Linda Buckley · Production Eleanor Emptage, Michael Mallie
Les projections
#COVID-19 À la suite des décisions gouvernementales annoncées pour faire face à la crise sanitaire actuelle, les projections ne pourront pas se tenir du …
Les projections
(édition en cours)
28 September 2022

17:00

>

18:52

Buy
30 September 2022

18:30

>

20:22

Buy
1 October 2022

18:30

>

20:22

Buy
<!- View not found ->