Days of the Bagnold Summer L'histoire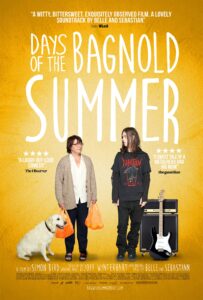 Sue, 52 ans, est bibliothécaire et mère célibataire. Daniel, 15 ans, mange des chips et écoute Metallica. Cet été là, Daniel aurait dû le passer avec son père et sa nouvelle belle-mère en Floride. Quand ces derniers annulent sa venue à la dernière minute, mère et fils doivent se faire à l'idée de passer six longues semaines ensemble. Les caractères s'affrontent dans cette maison périurbaine transformée en champ de bataille, alors que Sue et Daniel font face à leurs drames personnels - et poursuivent leurs passions respectives.
Sue (52), works in a library. Daniel (15), eats crisps and listens to Metallica. This was the summer Daniel was due to spend with his father and his father's new wife in Florida. But when they cancel his trip at the last minute, Sue and Daniel suddenly face the prospect of six long weeks together. Over the course of one long summer, an epic war of wills rages in the unassuming battleground of their suburban home as Sue and Daniel reckon with private tragedies – and pursue their personal passions.
United Kingdom
2019
Couleur
86'
Photographie Simon Tindall Montage Ash White · Musique Belle & Sebastian · Avec Earl Cave, Monica Dolan, Rob Brydon
Les projections
#COVID-19 À la suite des décisions gouvernementales annoncées pour faire face à la crise sanitaire actuelle, les projections ne pourront pas se tenir du …

Regrettable, aucune projection de ce film n'est programmée...

Regrettable, aucune projection de ce film n'est programmée...

<!- View not found ->